Major sporting events on the Sunshine Coast could accommodate thousands of extra spectators under plans for an initial $68 million expansion of the council's Kawana stadium.
The council released concept drawings of the first stage on Friday, which would boost the overall capacity to 16,618 with a new eastern grandstand and expansion of the existing western side.
The council has agreed to commit $17 million towards the project, subject to securing matched funding from other stakeholders including the state and federal governments, after first floating the idea in 2016.
"If all funding can be secured, works on the expansion will start in October 2021 with construction expected to take 15 months," mayor Mark Jamieson said.
He added that the 10,573 new seats would come at a cost of about $6400 each and "compare favourably" with other recent and upcoming developments in Australia and abroad with per-seat costs exceeding $10,000.
The new eastern stand would seat 8085 people, with 3533 in the expanded western stand and mounds at the south and north end accommodating a further 5000.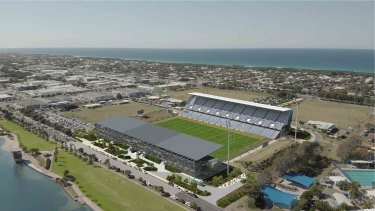 In addition to extra seating, public and player amenities would be upgraded to include warm-up and recovery areas, multi-purpose community spaces, two new change rooms, media and corporate facilities.
The expansion project is hoped to improve the stadium's experience for fans and its ability to "meet the requirements" of sporting codes like the NRL and A-League. Live music is also slated for the site.
Further development of north and south grandstands could follow under the council's "final desired state" for the stadium, pushing capacity out to 23,400.
Architects have been engaged by the council to develop the vision, though costing for any further stages has not been finalised.
Comments