In a 2015 survey conducted by the Weed Science Society of America, annual bluegrass (Poa annua L.) was identified as the most troublesome weed in managed turfgrass systems throughout the United States (2).
Annual bluegrass impacts most turfgrass systems, from sod farms to golf courses, and often causes severe economic losses.
Poa annua is a problem so widespread that its presence has been observed on all continents, including Antarctica, although it is most prominent in temperate climates. Annual bluegrass has high levels of genetic diversity and can rapidly adapt to different climates and management programs, making it particularly challenging to control.
Existing annual bluegrass management programs rely heavily on herbicides in all four major turf sectors (golf, sod production, athletic fields and residential lawns). Turfgrass facilities can easily spend hundreds of dollars per acre to manage annual bluegrass on their premises. In an effort to cut costs, many turfgrass managers may choose to use less expensive products, limiting the types of chemistries used.
When the same few herbicides are used frequently with little diversity in management practices, there is an increased risk of herbicide resistance. Annual bluegrass has been shown to quickly develop resistance to herbicides and is ranked third among all herbicide-resistant weed species globally, with resistance to at least nine herbicide sites of action (1).
A team of 17 university scientists has embarked on a $5.7 million project to limit the impact of annual bluegrass. The team's multifaceted approach, funded by the USDA and the National Institute of Food and Agriculture, involves characterizing the nationwide distribution of herbicide-resistant populations, seeking weaknesses in the weed's seed biology and growth characteristics, and developing alternatives to herbicides to supplement current control measures.
This article has been written to introduce turfgrass managers in the golf industry to the broad spectrum of work being performed by providing the names and locations of the project leaders and describing the eight objectives of this research.
Who is involved?
Seventeen faculty members from 15 universities are involved in the USDA-SCRI (Specialty Crops Research Initiative) Poa project:
Jennifer H. Allen, Ph.D.
Associate professor
Portland State University
Shawn Askew, Ph.D.
Professor
Virginia Tech
Muthu Bagavathiannan, Ph.D.*
Associate professor
Texas A&M University
Jim Brosnan, Ph.D.
Professor
University of Tennessee
Matthew Elmore, Ph.D.
Assistant professor
Rutgers University
David Ervin, Ph.D.
Professor emeritus
Portland State University
George Frisvold, Ph.D.
Professor
University of Arizona
Travis Gannon, Ph.D.
Associate professor
North Carolina State University
Becky Grubbs, Ph.D.
Assistant professor
Texas A&M University
John Kaminski, Ph.D.
Professor
Penn State University
Alec Kowalewski, Ph.D.
Associate professor
Oregon State University
Bert McCarty, Ph.D.
Professor
Clemson University
Patrick McCullough, Ph.D.
Associate professor
University of Georgia
Jay McCurdy, Ph.D.
Assistant professor
Mississippi State University
Scott McElroy, Ph.D.
Professor
Auburn University
Aaron Patton, Ph.D.
Professor
Purdue University
Bryan Unruh, Ph.D.
Professor
University of Florida
* Dr. Bagavathiannan serves as the primary investigator and project leader for this grant.
In addition to these project leaders, more than 20 students and support staff are directly involved in the work, which extends across at least 14 states.
What are the objectives of the work, and how is the project designed?
This research project has eight overarching objectives, several with subobjectives designed to be as thorough as possible in exploring every aspect of the annual bluegrass epidemic. Each objective is briefly summarized below.
Objective 1: Conduct field surveys and document the extent of annual bluegrass resistance to key turfgrass herbicides, and develop methods for rapid resistance detection.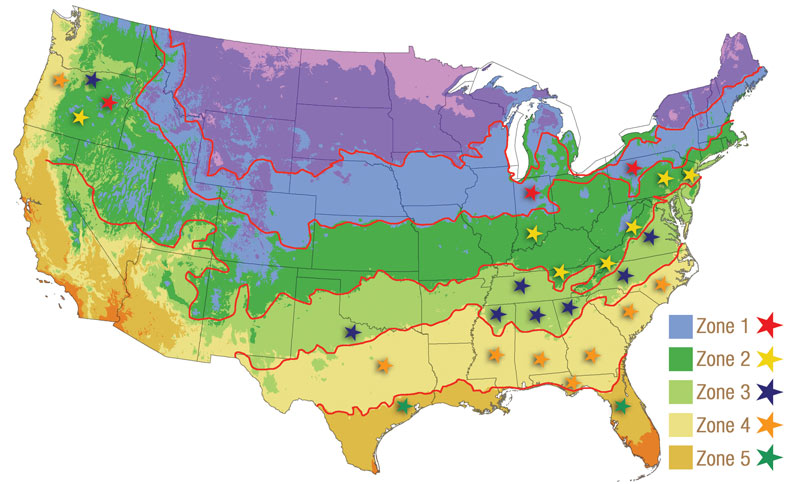 Figure 1. Delineation of survey zones for Objective 1 based on the USDA plant hardiness map.
---
A series of field surveys is being conducted to collect escaped plant populations across five unique hardiness zones (Figure 1, above) in each of four turfgrass systems (golf courses, athletic fields, home lawns and sod farms). Researchers will collect at least 2,000 unique populations, equally distributed across each hardiness zone and turfgrass system, for subsequent herbicide screenings. To date, more than 1,000 populations have been collected, and project leaders are on track to complete field surveys in 2020.
After collection, each population is subjected to a series of resistance and susceptibility screenings to key pre- and post-emergence herbicides commonly used in turfgrass weed management (Table 2). Herbicide dose-response rates used for this objective range from 0× (control) to as high as 8× (1× = recommended label rate), depending on the type of herbicide and whether the population has been classified as "resistant" or "susceptible" in initial evaluations.
In addition to carrying out field screenings, researchers are seeking to determine whether resistant populations of annual bluegrass are being spread across the U.S. from seed production fields. In an effort to test turfgrass seed sources for contamination of resistant annual bluegrass, select project leaders will be collecting annual bluegrass seed from seed cleaners and certified seed lots. An anticipated 200 samples will be germinated and propagated to evaluate the extent of herbicide resistance to the herbicides listed in Table 2.
Furthermore, researchers are seeking to develop and refine rapid diagnostic assays for annual bluegrass resistance to some key inhibiting herbicides used in turf systems. Two approaches are being evaluated, including an agar culture method and a leaf incubation method in which annual bluegrass samples are exposed to variable rates of select herbicides and evaluated for resistance. Each of these methods has applications for specific scenarios and herbicides and may help researchers diagnose resistance more quickly in the future.
Comments