Tuesday, April 30, 2019. It's 6am. The sun is yet to properly rise, but the wind has picked up a bit.
Damian Hough stands in the centre square at Adelaide Oval looking up towards the clouds. So far, no rain has been recorded for April and it's now officially Adelaide's driest start to a year in 131 years.
For the first four months of 2019, the West Tce weather station has recorded just 17.8mm of rainfall, breaking the 1888 record low of 19.2mm.
But this night, rain is expected and it will continue for four days. So Hough — the Oval's head curator — and his team of ground staff are up early to "punch holes" in the grass.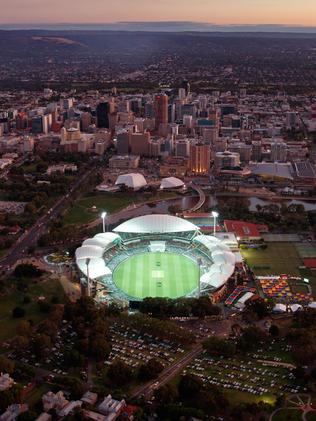 The turf is longing for natural rainfall and is set to soak up the drenching that is on the way. To get this oval looking the way it does is a delicate balancing act for the team. Their job is about finding the right recipe of what the weather serves up, of using built-up knowledge and skill and then adding in a substantial dash of what science can offer.
Deep under the Eastern stands in small offices is where that balance is determined — where round-the-calendar plans are made for managing the state's best-known patch of grass at levels the average home owner wouldn't even know existed. Everything from thatch levels to compaction and infiltration and transpiration rates are measured, while regular soil and water tests are measured and analysed to create provide ideal levels for plant health.
Hough's tidy office has a large pin-up board running down one wall. On it is the schedule for herbicide spraying, fertilising and pest control measures as well as the AFL's season schedule. On that schedule, once a game is complete, it is highlighted in green; a visual aid so that the more green there is, the closer it is to season's end.
Hough — who started an apprenticeship at the Oval in 1996 under the leadership of the legendary Les Burdett — says a lot has changed in turf management in his time.
"The way we do things is completely different," Hough explains. "The profile's different, the technology's changed, the turf variety. Everything."
What was once the original loam profile is now pure sand. Where groundstaff once hand-watered using a series of moves to ensure even irrigation, there are now 90-odd pop-up sprinklers, which can be turned on individually if needs be.
What was once a combination of couch and winter grass (poa annua) is now mostly rye and Santa Ana couch (and the winter grass is considered a weed).
"We're a cool season turf variety, growing in quite extreme conditions in summer, cut down to a height so the turf is under stress all the time," Hough says.
"We could be cutting anywhere between three to six days of the week at 10mm with a cool season grass in a 40C heatwave, so it gets quite tricky with a game of cricket on."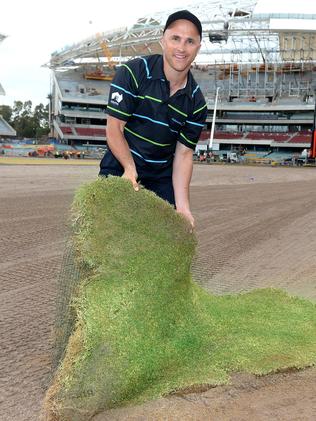 Shade modelling is used to determine the areas that require supplementary light, and "grow lights" — heated lamps — can be used in these areas over the winter months to promote grass recovery.
"This (modelling) helps us understand how much usage a ground gets, how much sunlight it gets and then substitute it with grow-light technology to make optimum growing conditions," Hough says.
The biggest change for the grass is the drainage underneath. Where once there was none, now the oval — with its pure sand profile and gravel blanket — has drainage every three metres.
Remember the mud pits of footy games of the past? Doesn't happen anymore.
Absolutely, the turf declines over the course of an AFL season, but today's technology means groundstaff is managing that decline better.
"They key things for us are turf sustainability, health and presentation, but safety is the main one and once we notice the turf getting down below a certain threshold, that's when it will be time to replace it."
Over a typical summer, which includes not just cricket matches but now big-stage concerts, too, anywhere from 6000 to 10,000sqm of turf will be replaced. Currently, the Adelaide Oval's surface has seven different ages of growth thanks to the turf replacement program, and this adds its own complication.
"Every area behaves slightly differently, so you're trying to treat the oval as a whole, but then you've got localised areas that you're trying to get as uniform as possible.
"A newer turf drains really well because it doesn't have as much organic matter in the profile, whereas the older it gets, it gets a build-up of organic matter, which is just natural, and it doesn't drain as freely.
"We do a lot of aeration during winter to keep the holes in the ground and keep airflow and allow the water somewhere to move, which improves root structure and profile health.
"In summer, it changes completely and our pressures become moisture retention. The older areas retain more and the newer areas dry out quicker, so in summer, you're putting wetting agents out."
And this is where the dreaded "D" word comes into it: disease. Yes, even the Adelaide Oval grass succumbs.
"Disease outbreaks are not uncommon," Hough explains. "We had some concerns four or five years ago over the summer period and we reviewed our practices and our applications and modified our program … and the last couple of years, we've been really good.
"But then we had an outbreak earlier this year at the back end of the cricket season after the Phil Collins concert (on January 25). Environmental conditions combined with the concert put the grass under stress, which resulted in a couple of outbreaks.
"We have preventive programs in place combat any disease outbreaks, but also curative. It's a 12-months-of-the-year program, but it's not just about spraying a fungicide, it's also an integrated pest-management system, managing thatch levels, leaf wetness and airflow around the plant."
If a disease is suspected, soil and leaf samples are taken off to testing labs.
Comments