Bruce Gregory, CGCS, remembers the way it used to be — until three letters of the alphabet changed everything.
"About 40 years ago, I was in my first job out of college. Went back home to a nine-hole course," says Gregory, a 22-year GCSAA member who oversees Liberty (Ind.) Country Club. "They were spraying greens out of the back of a pickup truck. A kid in the back was stirring up the chemicals with a canoe paddle, and they were pumping out the spray through a garden hose."
My, how times have changed.
"I've seen the new sprayers they have now. They're pretty sweet," Gregory says. "I don't have one. But would I use it? Absolutely. And I'm an older guy now."
The golf course management industry, driven by modernization, has matured. Technology is at the center of the growth spurt. It all goes back to those three letters that have revolutionized the lives of superintendents.
GPS.
That stands for Global Positioning System. It affects nearly everyone and has seemingly unlimited uses. Smartphones have it. So do cars. It assists in managing industries, including golf. Superintendents have an opportunity to include it in their arsenal. It can be used for mapping irrigation. Moisture meters use it to enhance precision water use. Drones navigate with GPS to collect imagery from above the golf course. And robotic mowers with GPS are being tested.
What is the value of GPS technology for superintendents? Trust that it will reduce human error and, ultimately, ease budget strains. For some, it is paying off not only for them, but also for those watching over them.
"The accuracy is through the roof," Justin Sims, GCSAA Class A director of grounds and facilities at The Alotian Club in Roland, Ark., says of his Toro Multi Pro 5800 sprayer. Toro has provided GPS-enabled precision Multi Pro sprayers with its GeoLink technology since 2015. "The lake where the city gets its water is across the road from us, so we work under restrictions, more restrictions than probably any course in the state, so we have to be accurate and diligent with applications," says Sims, a 15-year GCSAA member. "I think we earned brownie points from the Arkansas Department of Environmental Quality with this technology."
Frost Inc. has been delivering GPS spray-control systems to the industry since 2012 and has worked with academic organizations and turf programs to show what technology can do. Frost CEO Ken Rost sees GPS continuing the momentum his company helped fuel. "The mode right now is that technology is pretty solid for executing. One piece of it that continually improves is GPS signals and error corrections," Rost says.
Not everyone, however, is convinced that GPS is the ultimate game changer. Reasons range from potential expenses to skepticism to fear.
"For the first time, I am witnessing resistance to technology by team members. They recognize what the new technology can bring and (that it can) make their lives as operators easier," says Lee Strutt, CGCS, MG, MS, a 19-year GCSAA member who oversees The Royal Automobile Club in London and has GPS monitors on his two sprayers. "However, they are recognizing that they may lose operating skills by using new technology as opposed to operating it themselves. I don't know if this is in light of autonomous mowing equipment being seen on the market or a genuine concern to keep and maintain equipment skills."
Lessons in GPS
Married couple Stephen and Lori Tucker pulled into a North Florida convenience store recently and witnessed a throwback scenario.
"We saw a guy looking at a map," says Tucker, a 19-year GCSAA member and equipment manager at Tranquilo Golf Club at Four Seasons Resort Orlando. "I said to Lori, 'Can you still read a regular map?' We're so used to phones with GPS. Could you still get from Point A to Point B without GPS?"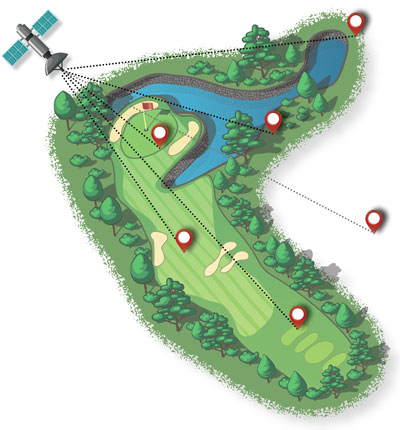 Some GPS history: It is a network of satellites that since 1978 have circled the globe. They were launched as a tool for the U.S. Department of Defense for military applications, and the technology was eventually made available for civilian use in the 1980s. Agriculture was among the first areas to benefit from GPS: Farmers could narrow their target for seeding or irrigation to a fraction of an inch. According to marketing research firm NDP Group, a study eight years ago showed an estimated aggregate benefit of GPS for crop farming totaling $19.9 billion annually. John Deere entered the GPS space 20 years ago on the agriculture side of the business.
Garmin International, a worldwide leader in GPS products and technology, earned more than $3.3 billion in total revenue in 2018 and has sold more than 190 million devices since its inception in 1989. The company's five primary business segments are automotive, aviation, marine, outdoor and fitness. It makes GPS products for golf, including a laser range finder and smartwatch. Garmin hasn't entered into GPS technology for golf course maintenance equipment, but …
"Anything is possible. Right now, we're focused on consumers," says Scott Moore, Garmin lead product manager. "One reason we're seeing more and more uses for GPS is because technology keeps getting better and better and more low-powered, so you can operate something like a sprinkler with less power needs."
GPS is a force in GCSAA Class A superintendent Sean Reehoorn's world at Aldarra Golf Club in Sammamish, Wash. "If I have a neighboring homeowner saying we're spraying their yard and they had an outbreak, I could pull up a map and say I wasn't even near their property that day," says Reehoorn, a 15-year association member.
"I think we knew it was coming to this, because farmers were using it, but we didn't think it'd be cheap enough to use it," Reehoorn says. "You pay $40,000 for the technology and save $12,000 a year. From an ROI standpoint, after eight years, you can buy a new one without the cost. There's a safety net with it from time saving, cost saving and security saving. I won't go back to anything else."
Still, some see drawbacks. "I'm all for where technology is headed," says Joel Purpur, CGCS, a 38-year GCSAA member at Park Ridge (Ill.) Country Club. "With high-tech equipment, it could bring high-tech problems. It's not like old cars where just anybody can just jump under the hood."
Are equipment managers equipped to troubleshoot GPS products? "If you're able to operate a smartphone or a computer, GPS should be fairly easy for you. If you have a hard time with technology, you're probably going to struggle with it," Tucker says.
Although Steve Wilson, CGCS, superintendent at Milburn Golf & Country Club in Overland Park, Kan., ultimately didn't purchase a demo sprayer with GPS, he says the manufacturer "bent over backwards" to help fix a problem. A 22-year association member, Wilson says, "We were having trouble with the unit holding a satisfactory lock with the GPS signal. That would cause us to stop spraying and wait for the signal to get back to the level needed. In the end, it was costing us time when our greens sprays are struggling to stay in front of our early morning tee times. From an operational standpoint, the added benefits of more accurate applications and possible chemical savings did not outweigh the lost time."
Click here to read more: https://www.gcmonline.com/
Source, Images & More: https://www.gcmonline.com/
Comments