Synthetic sports turf has come along way since the first plastic fields were introduced in 1965. 
Here is a brief history of artificial turf.
Today, there is a technically advanced sports surface for each sport, that has been designed to give a consistent performance for that particular sport. These sports systems have streaked ahead of the first generation of sports turfs.
The synthetic turf we enjoy today has been reinvented many times over the last decade. The first artificial sports turf was used in the Houston Astrodome, a fully enclosed stadium completed in 1965.  The stadium was an engineering masterpiece in its day, but not so great for the grass pitch, which resented the lack of sunlight, turned yellow and died.
Artificial turf was the hi-tech solution to the problem of finding an alternative to natural grass. It looked good, but it was not player-friendly.  Injuries increased, and the artificial grass caused "burns" on those players who hit the turf and ball-bounce off the artificial grass was unpredictable.
So, there were a few obstacles to be overcome before we could be well served by the specialised sports turfs of recent times.  As with any great idea, from sketchy beginnings, improvements created demand and demand drove improvements.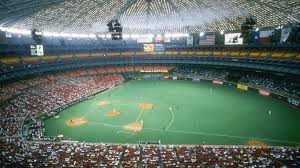 1966: Artificial turf was first used in Major League Baseball in the Houston Astrodome
1969: Franklin Field, the gridiron stadium of the University of Pennsylvania, Philadelphia, Pennsylvania, switched from grass to artificial turf. Also home of the Philadelphia Eagles, it was the first National Football League stadium to use artificial turf.
Early 1970s:   Synthetic grass fields began to be used for hockey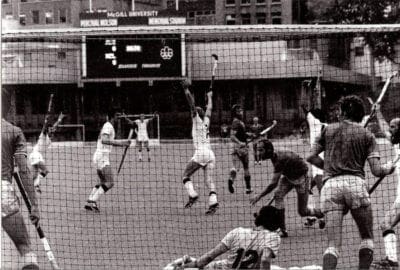 1976: Hockey Olympic Games on this surface being held at the Montreal Summer Olympics.
Late 70's:   Further improvements to the field design were being made, but the original design remained essentially the same.
Early 2000's:  New artificial playing surfaces using sand and/or rubber infill were developed.
2001: FIFA launches its FIFA Quality Concept for Synthetic fields
2005–06:   UEFA announced that approved artificial surfaces were permitted in their competitions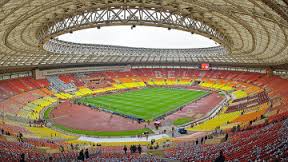 2007–08:   Full international fixture for the  European Championships played an artificial surface at the Luzhniki Stadium in Moscow.   It was one of the first full international games to be played on such a surface approved by both FIFA and UEFA.
2013:   FIFA supports synthetic grass systems in international matches.
The new generation of sports turfs available today provides a superb surface for playing sport on. Revolutionary technical advances in the materials used for sports surfacing systems led to the production of softer, non-abrasive synthetic grass blades, which were then manufactured with high-performance backing materials. Yarn manufacturers such as TenCate Grass poured resources into producing sports turfs designed to meet the specific needs of each of the major sports.
Sports can now be played at speed, with less risk to players and much lower rates of injury than were incurred on the original artificial turfs. The new generation sports turfs have spawned a new generation of sportsmen and sportswomen, who can safely stretch a point and win games.
Now looking at turf, we use turf for all sorts of things including
Not Only Athletic Turf. When most people think of artificial turf, they think of athletic turf being used for sports facilities, but that isn't the only place where synthetic turf can be useful.
Residential Landscaping.
Businesses.
Dog Parks.
Gyms.
Source, media & more – www.tigerturf.com
Comments