After heavy rain on the east coast and blistering heat in the west this year, a lot of our backyards are looking a bit tired and drab.
This is particularly true when it comes to our lawns which are either growing with wild abandon or become patchy and sparse.
If you're having the latter problem a DIY obsessed mum may have the perfect solution.
Jasmine Gurney came up with the easy and affordable border project for her friend's backyard and shared the process in a video on her Instagram page @_ohabode.
"The edges of my friend's garden lawn never grew due to the level of sand and cement around the fence areas. So ahead of listing her house on the market, we decided to do a quick spruce with nothing more than a few Cypress goldcrest pyramids and some decorative stone!" she said in an Instagram post.
The border project took Jasmine just one hour and cost her less than $175 to complete.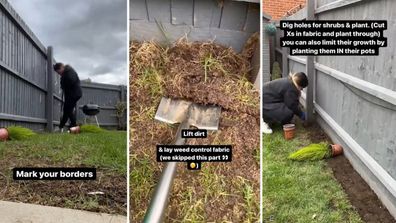 To start the DIY Jasmine marked out the borders which went along the fenceline.
Then she lifted up the soil with a shovel, and while she didn't lay down weed controlling fabric, she does recommend it.
Next it was time to dig holes for the plants. If you have used weed controlling fabric you'll need to cut an X-shape where you want to plant the shrub.
Once your plants are in you can pour your chosen decorative stones onto the border. Make sure you have enough to fill the space completely for the best effect.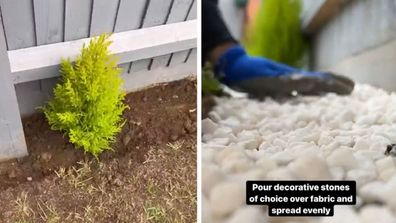 Jasmine chose Cypress goldcrest pyramid plants for the DIY.
"But you can of course use any plant you want, just be mindful of how big they'll grow in a few years as they may need moving or pruning," she said.
Other options you might want to consider are kangaroo paw, buxus and lilly pilly.
The plants Jasmine bought cost $11.85 each, and the stones were $131.68 in total after a 50 per cent discount because the bags were ripped.
"A bargain transformation to make the garden look a little more 'put together'," Jasmine said of the cost.
Jasmine's followers had plenty to say about her DIY with lots of questions, comments and compliments.
Some followers were concerned about how close the trees were planted to the fence, noting they can grow quite big and tall.
"Please reconsider the distance from fencing, I've done the same mistake, they grown big, within three years they're as tall as me and wider, resulting in them leaning forwards now as there's not enough room," one person commented.
So if you're trying this DIY you might want to consider increasing the size of your border and being careful about your plant selection.
If you do your research about plant measurement and find a way to prevent weed growth, this DIY is definitely a good option for sprucing up a drab backyard.
Comments