Brisbane's historic Gabba stadium would be "essentially demolished" as the Queensland government pushes ahead with plans to redevelop and lift the stadium for the 2032 Olympic Games.
Premier Annastacia Palaszczuk said the Gabba, which has been home to Queensland sport including cricket and AFL for 126 years, would host the opening and closing ceremonies.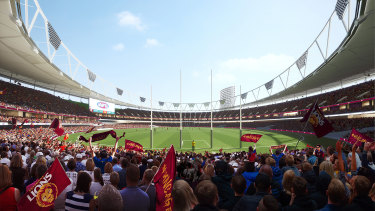 "Every Games needs a home," the Premier said.
"The Gabba has been home to our sport since 1895.
"A home for the 2032 Olympic Paralympic Games could be its crowning glory."
The director of stadium designing firm Populous, Chris Paterson, said the Gabba would be demolished and a new stadium built.
Asked if the stadium would be "essentially demolished", Ms Palaszczuk said it would "and there will not be a bad seat".
"We looked at a number of options about whether we could remodel.
"We are actually going to lift this stadium."
Ms Palaszczuk said the upgrade to the Woolloongabba stadium would increase its capacity to about 50,000.
It would also include a new pedestrian plaza linking the stadium to the Cross River Rail station, which is currently under construction.
Ms Palaszczuk said final details were still being worked out but the upgrade would cost about $1 billion.
She said having a main stadium two kilometres from the CBD would give Queensland an advantage other Games hosts had not had.
Brisbane is in the box seat to host the 2032 Games after the International Olympic Committee named south-east Queensland as its preferred candidate last month.
Bid organisers have insisted they can host a cost-neutral Olympic Games, under a plan to use legacy facilities from the Gold Coast Commonwealth Games and Sydney 2000.
Comments