It was a big moment for English football talent when Real Madrid poached Paul Burgess from Arsenal in 2009. After starting his career at Blackpool FC, Burgess had arrived at the north London club in 1999, rising to prominence at the age of just 21. He excelled on the European stage during Arsenal's Champions League campaigns in the early 2000s, and shone at Euro 2004 in Portugal. Four years later, he put in another commanding performance at the European Championships. Not long after that, Real Madrid, the most prestigious club in world football, made their sensational transfer swoop.
If you don't remember any of this, it's not because Burgess was a flop at Madrid. It's because he was Arsenal's head groundsman. Burgess's transfer was the beginning of a Europe-wide spending spree on British turf talent. Real's rivals Atlético snapped up Dan Gonzalez, who had impressed with his work for AFC Bournemouth. Tony Stones, who got his start looking after bowling greens in Barnsley before eventually becoming head groundsman at Wembley, was signed to oversee the French national stadium, the Stade de France. Fifa, meanwhile, signed Alan Ferguson, a Scot who had won seven Groundsman of the Year awards during 12 seasons at Ipswich Town, as their first in-house senior pitch manager.
The highest-profile acquisition of all was Jonathan Calderwood, who joined Paris Saint-Germain from Aston Villa in 2013. A two-time Groundsman of the Year, the Northern Irishman had been called the world's best by Gérard Houllier, who managed Liverpool, Lyon and Villa. The move came at a time when PSG's new Qatari owners were investing hundreds of millions to attract the world's top players, including Zlatan Ibrahimović and David Beckham. When we spoke recently, Calderwood said the timing of his move was no coincidence.Advertisement
"They had an injury list the length of your arm," he recalled. A more stable pitch would start to solve that problem.But there was a more tactical reason for signing Calderwood: before his arrival, the pitch was too slow, too bobbly, too unpredictable for the kind of high-tempo passing game played by most of Europe's elite teams. "The owners realised that it wasn't about buying 11 world-class players," said Calderwood. "They needed things behind them to allow them to work. One of the main things was the pitch."
Since his arrival, Paris Saint-Germain has won Ligue 1 six out of eight seasons, and just as importantly, from Calderwood's point of view, theLigue de Football Professionnel's best pitch award six times too. After winning the league in 2014, then-manager Laurent Blanc credited Calderwood with 16 of the club's points, because this pitch had made the team's attack so much sharper. The club has put him on billboards and he is featured in national TV adverts. Ibrahimović, once the club's star striker, jokingly complained that Calderwood was receiving more media attention than he was.
When it comes to sports-turf management, the UK is a talent factory like no other. "We're 10 years more advanced than anywhere else in the world," Richard Hayden, author of Fifa's official handbook on pitch maintenance, told me. "If you want to work in technology, you go to Silicon Valley. Well, the UK is the Silicon Valley of turf!"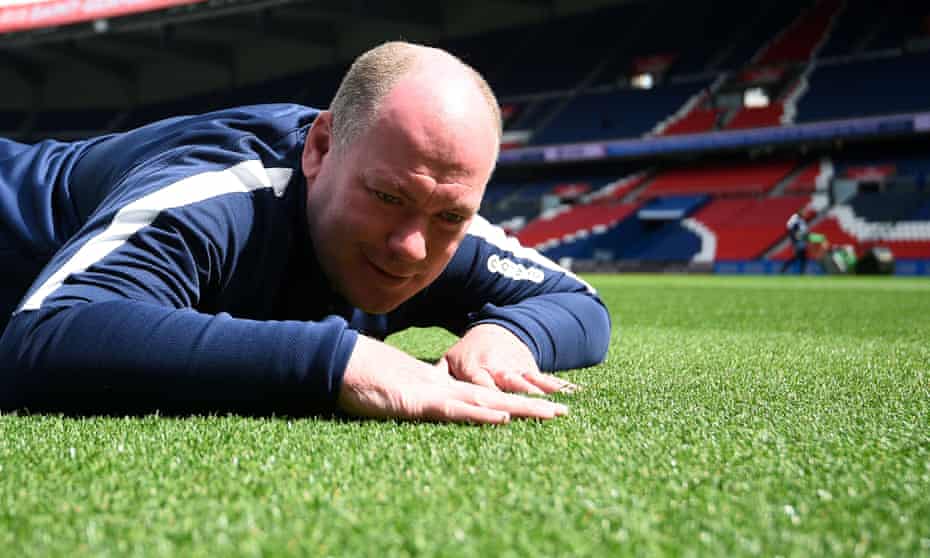 The English grounds-management sector alone is valued at more than £1bn and employs more than 27,000 people, with specialists in every area, from seed enthusiasts who can breed grasses that grow in the shade to scientists who develop chemicals to make grass greener. In West Yorkshire, the Sports Turf Research Institute is an R&D powerhouse, studying everything from how quickly water passes through different types of sand to how the fineness of a stem of grass influences the roll of a golf ball. In hardware, too, the UK has no rival. Bernhard and Company in Warwickshire make the world's best sharpening systems for mower blades; Allett, in Staffordshire, provides elite mowing and maintenance equipment, as does Dennis, based in Derbyshire. Dennis mowers are used across the world's top sports arenas, from Wimbledon to Barcelona's Camp Nou and Manchester United's Old Trafford. Calderwood uses them at PSG, too.
The turf-care techniques developed in the UK have been applied in tennis, golf, rugby and just about any professional sport that takes place on grass. But it is football, with its vast wealth and global fanbase, that has powered the revolution. No groundskeeper would claim their work was the main reason for any team's success, but, just as Olympic swimmers don't compete in beach shorts and professional cyclists shave their legs, top football teams obsess over tiny details that can be the difference between winning or losing. When Pep Guardiola arrived at Manchester City in 2016, he asked for the grass to be cut to just 19mm, in line with the ultra-fast pitches he had demanded at his previous clubs, Barcelona and Bayern Munich.(In the end he had to settle with 23mm, because short grass is more vulnerable to wear and Manchester's cold climate means it can't recover quickly.)Similarly, after the 2016/17 season, Liverpool manager Jürgen Klopp told the groundskeepers that the pitch at Anfield was too slow. Staff reconstructed the pitch over the summer, and Liverpool went the entire next season unbeaten at home in the league.
The dramatic improvements in playing surfaces since the early 1990s have transformed the way the game is played. "At Arsenal, we always had top pitches, but away from home it became better and better," former manager Arsène Wenger told me via email. "It helped a lot with the quality of the game, and especially the speed of the game."
Pitch quality is especially important for the top clubs, who want to maximise the talent of their technically gifted players. By contrast, a bad pitch is seen as a leveller, because it hampers the quick passing of the best teams; in football, an uneven playing field tends to level the playing field, so to speak.
This summer's European Championship is taking place in 11 cities across the continent, but the pitches are largely in British hands. Uefa has assigned each stadium a "pitch expert", working alongside the resident groundskeeper to deliver tournament-quality surfaces. Apart from Richard Hayden and Greg Whately, who are Irish, all the pitch experts are from the UK. For Wembley stadium, the host of the semi-finals and final, the pitch expert is Dale Frith and the groundsman Karl Standley, a 36-year-old Englishman with a razor-sharp haircut and greying stubble, whose accolades include the Top Turf Influencer award.
Speaking four weeks before the opening match at Wembley, England v Croatia, Standley sounded focused but relaxed, like a formidably prepared star student on the eve of an exam. Yes, his work on the Euros would be viewed by around more than a billion viewers across the world, and yes, the tournament's stars are relying on him to do their finest work, but he wasn't fazed. "We've planned for this tournament for years," Standley told me recently. "We plan to the point that we try to be unbreakable."
Click here to read more
Source, Image & More: https://www.theguardian.com/
Comments