Palmerston North's newest multi-use artificial sports field is now ready for use at the Central Energy Trust Arena.
The first surface of its kind in the region, the turf features permanent markings for rugby and football and can be used for training and competitions for any codes, including rugby league and summer football competitions.
Introducing the surface, Palmerston North City Council Venues Manager, John Lynch stated "this is the latest technology for artificial turf and we know players will be delighted with how it looks, feels and performs.
"They won't have to face the inconsistencies of a natural grass surface due to changes in weather. There's also the benefit of much less maintenance, such as mowing, line marking and spraying. The only maintenance is to sweep the surface weekly to maintain the infill."
The turf construction was managed by expert installers Fieldturf NZ after 300mm of topsoil was removed. A base was constructed, shock pad installed and then the artificial turf was sewn together covering the entire field. After the turf was installed, 340 tonnes of sand and 130 tonnes of small rubber granules were layered over the entire surface.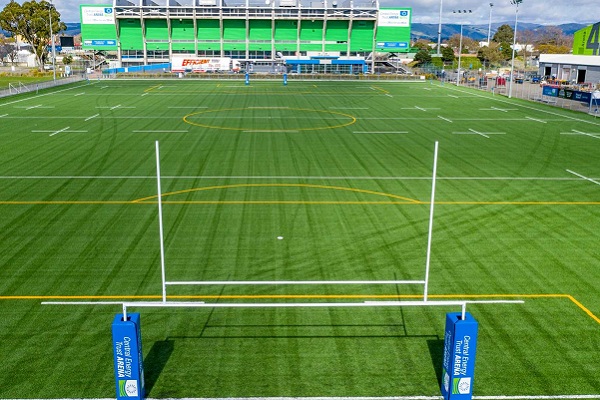 Dual-code posts can easily be set up for rugby and football training, with dedicated sport-specific posts for match day..
With the turf being floodlit, the hours of use for the field are from 7.30am to 10pm. Bookings have already been taken for a range of events, including training and competitions. Schools will also be encouraged to use the space, especially during wet times.
The need for artificial turf was identified due to the loss of active community recreation time through the wear of fields and adverse weather conditions.
The artificial turf is one of the first improvements to the Central Energy Trust Arena as part of Council's Arena Masterplan.
The total cost of the turf was $1.4 million and has been delivered under budget. External funding and support totalling $520,000 has been received from the New Zealand Community Trust ($200,000), Lion Foundation ($150,000), Eastern and Central Community Trust ($150,000) and Mainland Foundation ($20,000).
Images show the Central Energy Trust Arena new surface. Courtesy of Palmerston North City Council.
Comments