MCG curator Matt Page insists last summer's raft of lifeless decks was an aberration and is optimistic changes made in the off-season will give the 'G a better chance of producing compelling Test and Sheffield Shield cricket for the next decade.
There will be heightened attention on the venue's wickets this season after all five first-class matches played at the ground last summer ended in draws.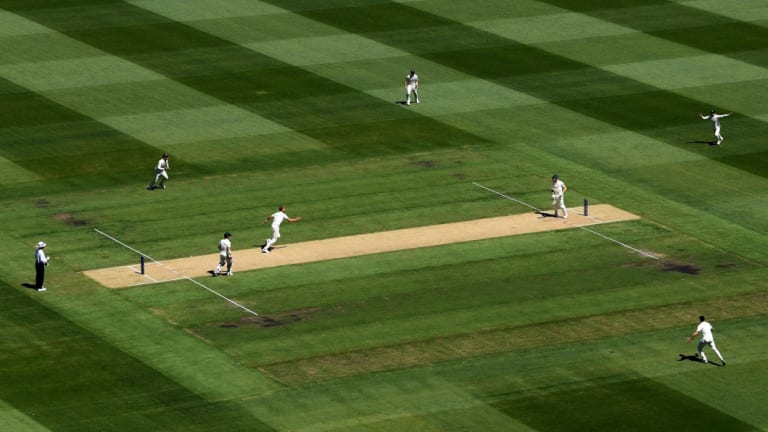 Following the completion of the AFL season, and last Saturday's WWE wrestling event, seven drop-in wickets, down from 10, are being placed into the venue's square ahead of Victoria's first home Shield match of the season, against NSW beginning on October 25, one of three Shield fixtures to be held at the ground ahead of this summer's Boxing Day Test between Australia and India.
In addition to reducing the amount of pitches, done in order to increase wear and tear on the square, several other steps have been taken in order to avoid a repeat of last summer.
An "aggressive" renovation of the pitches was brought forward from the start of this season to the end of last, while a layer of sand has been placed on the concrete slab in the centre of the arena to soften the connection between the pitches and the base, bringing the ground in line with Australia's other drop-in pitch venues. The pitches either side of the Test wicket will also be used for the early-season Shield games, which had not previously been the case.
Page is preparing for his first full season in charge of the MCG decks, having moved in the middle of last summer after five years as curator of Perth's WACA Ground. He has some previous experience with drop-in wickets, having worked on the pitch for last summer's Optus Stadium cricket debut.
"We've had 20 Test matches here on drop-in wickets, we've had 18 results. I don't think it's as all doom and gloom as it was made out to be," Page said.
"We want to be unique. The beauty of Australian cricket in the past has been that every venue has had its own unique characteristics.
"We sat down as a collective, and that was with Cricket Australia and Cricket Victoria as well, and we spoke about, 'Where do we want to take the MCG wicket? What do we want to be renowned for? What do we want to produce for our long-format games? And how do we go about doing that?'
"[We want] result wickets, that I guess provide a contest between bat and ball, but allow the quick bowlers to get something up front, gives the batters a chance if they play well, and then also gives the spinners a chance later in the game. So I guess that's what we're trying to achieve in the years to come."
Source, Image & More: https://www.smh.com.au/
Comments