Urban planner Sebastian Pfautsch "nearly fell out of his chair" when he mapped the $17 million proposal by Royal Sydney Golf Club in Rose Bay to remove what he estimated were 5.4 hectares of paperbarks, hoop pines and Moreton Bay figs.
Many of the 569 trees potentially on the chopping block – if Woollahra Council approves the plan – are healthy mature trees with large canopies that are expected to live for another 50 years.
"That's a complete small urban forest – gone. I cannot fathom the scale of the tree removal, in times where we are trying so hard to green the city," Dr Pfautsch, a senior lecturer in Urban Studies from Western Sydney University, said.
"Replacing a mature tree that provides 300 square metres of shade, food and habitat with an advanced tree that has three square metres of shade is just not going to work," he said. "We don't just need to replace individual trees, but the canopy cover they provide."
His comments coincide with plans by NSW Minister for Planning and Public Spaces Rob Stokes to ask councils for "big and small" ideas to increase canopy cover to 40 per cent across Sydney.
While councils were largely responsible for managing trees on a site-by-site basis, the minister said he expected any application to remove trees "would see a greater number of trees planted in their place".
In addition to $5 million in grants announced last year, Mr Stokes is expected to announce on Thursday a further $10 million in "greening our city" grants to councils that plant more trees on streets, parks and plazas, particularly in areas with low canopy. Another $2.5 million in grants will be awarded to projects using trees and greenery to reduce the impact of climate change.
Dr Pfautsch said he supported the Premier's priority to increase the urban canopy by planting 1 million trees by 2022 and 5 million by 2030.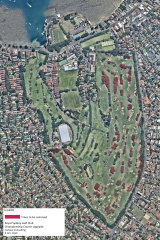 The "Greening our City" plan notes that valuable green infrastructure in eastern Sydney is located on private land, such as golf courses.
But more needed to be done to protect existing trees or transplant them, Dr Pfautsch said. "We don't have the time; it is hot now and we can't wait until 2120 for new trees to grow."
His research showed streets in Parramatta, Cumberland and Campbelltown with a 30 per cent canopy experienced fewer days of heatwaves, and could be 10 degrees cooler. Urban forests cooled local neighbourhoods and acted as buffers against wind.
With climate change, he said it was unclear whether newly planted trees would ever grow as much as those planted when the weather was not as hot and dry.
A spokesperson for Woollahra Council said it was "premature" to say the trees would be removed because the club's development application was still under consideration. The council had requested further information, and it had engaged a consulting arborist to provide advice.
Source, Images & More: https://www.smh.com.au/
Comments