It is the sound that is going to reverberate through fans at the new $890 million Sydney Football Stadium when it opens for business in September.
Sports Minister Stuart Ayres and Infrastructure Minister Rob Stokes yesterday toured the new stadium which is 90 per cent complete with the last parts of the roof now in place.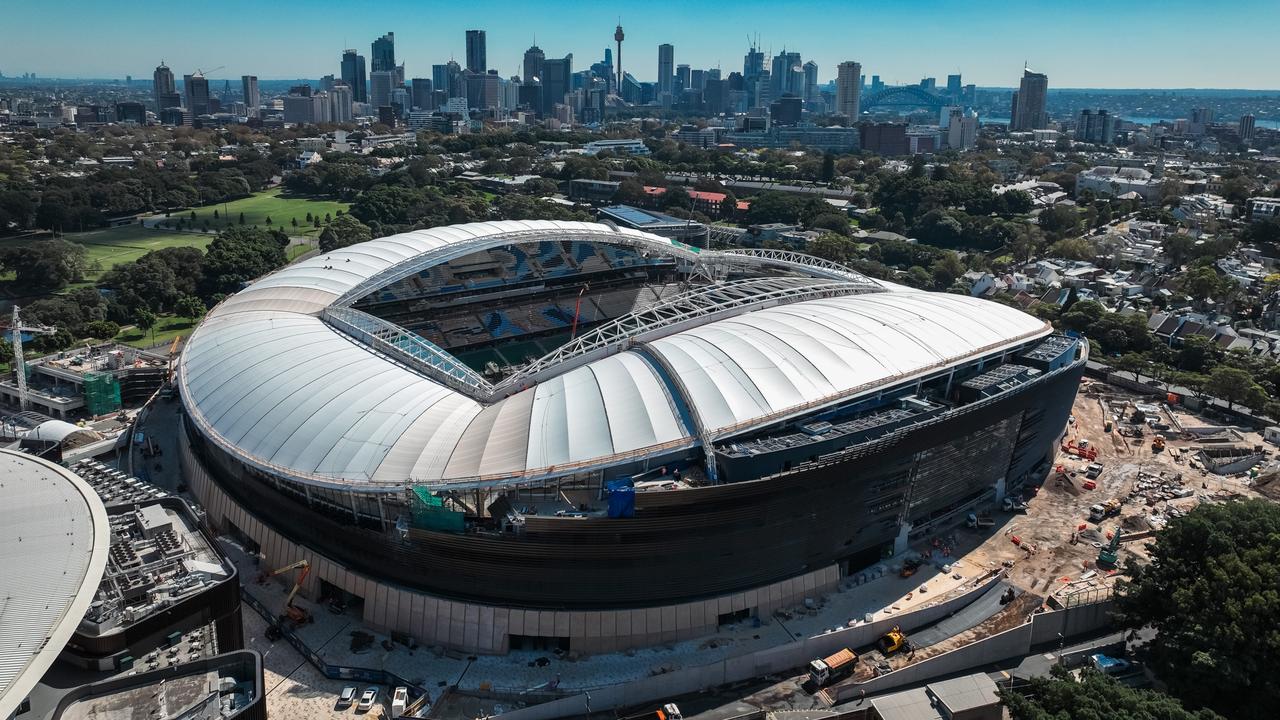 Premier Dominic Perrottet said: "With the roof now finished, you can truly get a sense of what fans, athletes and performers will experience when this stadium opens the gates."
Mr Ayres said: "This stadium will give NRL, A-League and rugby fans a phenomenal viewing experience, closer to the action in a rectangular stadium that will become the envy of sporting fans across the country."
"We are in the experience business," Mr Ayres said, indicating the new roof. "The sound reverberates, it will create an amazing sound when this stadium is full."
The new Sydney Football Stadium is nearing completion, with the last parts of the roof now in place.
The roof will keep spectators dry while players from the Roosters, Swans and Waratahs are under the open sky on their still to be laid home turf.
Waratah Lachlan Swinton saw the stadium for the first time yesterday and said: "Just walking in I had a big smile on my face as I pictured myself on game day."
The sound from the building work, that has used 4000 individual pieces of steel weighing 2000 tonnes in the roof alone, is contained within the stadium and gives a sense of what it will be like when full of cheering fans.
"You can actually feel the reverberation," he said. "It really revs me up and gets me trying that little bit harder."
Sydney FC defender James Donachie said: "It is just really exciting to see what it is going to be like, especially when it is full."
He was particularly impressed at how close the fans were to the action. "Players want fans closer to the pitch so they can see and hear everything, it's great for football."
NRLW premiership winning captain Corban Baxter was hopeful the ground would see the Roosters retain their title next season. "Hopefully we can back up and play some great football here," she said.
It is not clear which of the three codes will be hosting the new stadium's first match in September.
Mr Stokes said work on the facade was also complete and work was now concentrated on completing the fit out and stadium surrounds.
"This stadium will not only provide a stunning arena for sports and entertainment, but also create a fantastic new precinct nestled between some of Sydney's finest public spaces," he said.
"Unlike the old gated SFS, the new design of the stadium fosters an open atmosphere and welcoming open public space that is no longer limited to just game day activity."
Comments